Yahoo opens search toolkit in quest for more ads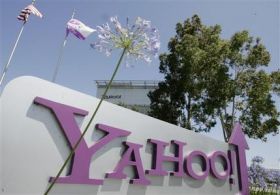 (AP) — Having fallen so far behind Google Inc. that it became a takeover target, Yahoo Inc. is banking on the creativity of other Web developers to help preserve its independence and regain ground in the lucrative Internet search advertising market.
Yahoo will try to unleash the pent-up innovation Thursday with a new service called "Build Your Own Search," or BOSS, that will share the Sunnyvale-based company's technology with third parties.
That means any Web site will be able to assemble a search engine using Yahoo's system for indexing information and images on the Internet. Yahoo figures plenty of Web developers will be interested because it's providing access to a set of tools that would cost more than $300 million to build from scratch.
All Yahoo will seek in return is the right to display ads alongside the results of any search engine that piggybacks on its technology. That way, Yahoo figures it will lessen Google's dominance.

Two specialty search services, Hakia and Me.dium, already have agreed to participate in the BOSS program.
"Our goal is to disrupt the search market and allow more entrants to come in," said Prabhakar Raghavan, Yahoo's chief strategist for search.
But a payoff from the new service may not come soon enough to extricate Yahoo from a shareholder revolt that could culminate in the company's sale to Microsoft Corp., which also is scrambling to catch up to Google in Internet search advertising.
Shareholders are upset with Yahoo's board, including Chief Executive Jerry Yang, for rejecting a $47.5 billion takeover offer from Microsoft, even though the company's stock had plummeted to a four-year low shortly before the bid was first made.
Activist investor Carl Icahn is trying to persuade Yahoo shareholders to oust the company's board so he can fire Yang as CEO and revive sales negotiations with Microsoft. The shareholder vote is scheduled Aug. 1 at Yahoo's annual meeting.
Yahoo is in hot water largely because it didn't keep pace with Google, which was the smaller of the two companies as recently as 2005.
In a nod to Google's superior technology, Yahoo has decided to allow its rival to sell some of the advertising on its own Web site in an attempt to boost its revenue by $800 million annually. The proposed partnership is expected to begin in the autumn if it's not blocked by U.S. antitrust regulators.
Raghavan said Google won't be handling any of the advertising deals that Yahoo picks up through the BOSS program.